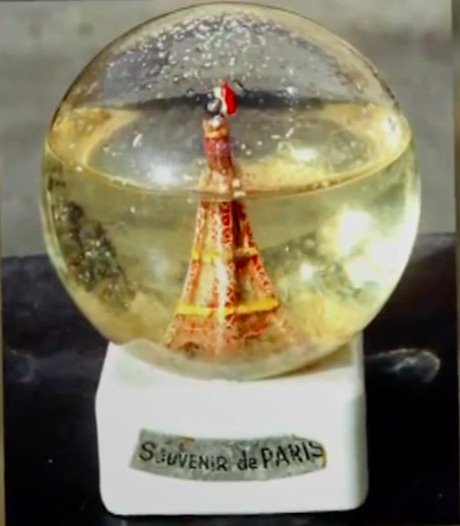 In recent years, I've been honoured to become friends with Andy Zito of Hollywood, California. Andy is the proud owner of more than 11,500 snow globes and snow domes, including some of the world's rarest and most coveted collector pieces. One such piece, which I would one day love to see in person, is an extremely rare original, and first ever issued Paris Exposition snow globe, from 1889, "Souvenir de Paris" (pictured above). This is literally the first ever snow globe produced, and it's only one of two globes known to exist world-wide….wow. Although it's literally priceless to Andy, this particular piece could be expected to fetch at least $20,000 USD, if offered for sale. Andy also has many old glass snow globes from the USA, including some very rare movie and TV show pieces. Included in Andy's collection:
3 extremely old and rare glass snow globes from France
6 extremely old and rare glass snow globes from Italy
Many retro Australian snow domes
Andy also boasts the first World Trade Center snow dome, and the first ever Statue of Liberty snow globe. Along with
Lisa Coutts
, a friend of mine from my home town of Melbourne, Andy collects many vintage snow domes from the "Big Things of Australia" – a total of 336! Actually, Andy holds the world record for the largest collection of snow globes (yet to be recognised by the Guinness Book of World Records). Here's a rundown of the world's most prolific collectors:
Andy Zito – 11,500
Michael Muntner – About 9,500
Josef Kardinal – About 9,000
Corbin Bernsen – About 8,000 (yes, this is the same Corbin Bernsen as he from L.A. Law)
Miriam Bein – About 6,000- 7500
Hank Millet – About 4,500
In January 2017 The Queen spent a week in Hollywood and met up with Andy for a coffee and a chat. Andy has been so generous in his support for me and my business, that it was an absolute pleasure to surprise him with a gift of a Hateful Eight snow globe – just one small contribution to Andy's amazing collection. Next trip to the States, I'm seeing that Paris snow globe in person! To see more of Andy's collection,
visit his snow dome museum website
.